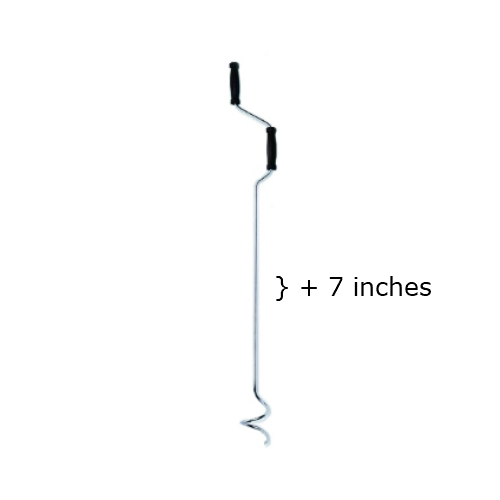 --The tools are now expected to be back in stock by the 22nd of September, as we wait for parts. We are so sorry for the delay.--

Description
Everything else about this tool is the same as the original Compost Crank®, with an extra 7 inches of working length. So for those of you looking for a longer tool for your taller compost bin, here it is! This longer tool originally came about because people were asking for a longer version for composting toilets, so we worked with David Omick (see quote below) to figure out the best size. With his expertise and advice, we are making available this option for a special 52 inch Compost Crank®!
 Specs
52 inches long to give extra length while using to aerate taller compost bins and composting toilets.
36 inches working length for ease of use in taller compost bins and a standard 55 gallon barrel compost toilet system.
Comfortable, easy to use, free-spinning, naturally UV stable, black nylon handles.
Durable, stainless steel, rust resistant construction.
Made in Tucson, Arizona on machinery we built from recycled parts.
The tools are handcrafted, so minor variations are inherent.
Handling time: Please allow for a handling time of 4-5 business days. This extra time is to allow for a surge in orders. We will usually ship in 1-2 business days.
"I was recently asked by Lotech, the makers of the Compost Crank, for advice on designing a crank ideally sized for use with 55 gallon barrel composting systems. The result is their new, Special Long Composting Crank. It's a perfect length for use with our Barrel Composting Toilet System or any other 55 gallon barrel composting system. While the shorter "standard" length works fine, the new, longer length is even better. It improves sanitation and convenience by allowing the user to crank to the bottom of the barrel while keeping both hands entirely outside of the barrel. 
Except for the longer length, the Special Long Compost Crank is identical to the standard model.  Both are, in a positive sense, anachronisms in that they're American-made and built to last a lifetime.
(Please note that this is an unbiased review.  Except for receiving a Special Long Compost Crank for testing, I have no affiliation with Lotech and have not received any financial compensation from them.)"  
David Omick "Living Outside The Box", of www.omick.net

Warning: Use of this tool has been known to cause people to rave about it to nongardening/noncomposting friends which makes them believe that you have finally lost your mind. Courtesy of Dan Speece, Mt. Airy, MD (The Duke of Dirt)
Now we're cookin'
I purchased the long-handled compost crank a few weeks ago, and since that time, I have turned my compost pile 4 times, which is 4 times more than I did last year. The pile has been staying hot and breaking down quickly. This tool makes it so much easier to pull the pile apart, water it, and toss everything back together with a pitchfork. I highly recommend this product.
I knew it would work, but...
After realizing my compost needed better turning, an internet search began and I arrived at Lotech. Scores of excellent reviews of the compost crank gave me confidence in this product's effectiveness. I knew it would work, but was not expecting it to work so well! Already seeing my compost levels drop as the piles heat up and are actually composting faster. This will be my go-to gift item for friends/family that are currently, or get talked into, backyard composting.
Completely satisfied
This aerator does exactly what it's supposed to, without any concerns about deformity or breaking. I have no doubt this will last longer than me.
Great Exercise
Thanks to the pandemic and my advanced years, I can't visit the gym anymore. But using the Compost Crank on my three compost piles has done wonders for my biceps. Those of you who are tempted by cheaper turners, believe me: you get what you pay for. The Compost Crank is one of those tools you will pass on to your children.