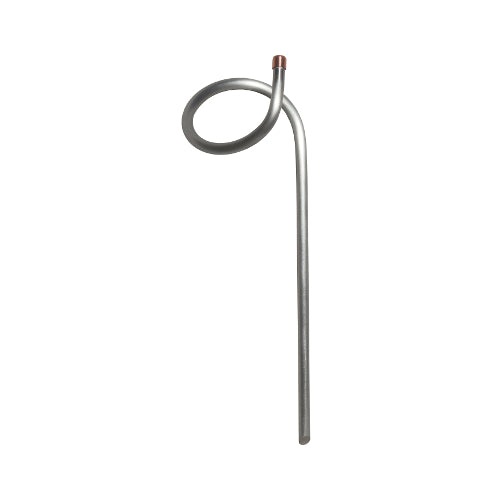 Description
Place these attractive, sturdy, and durable hose guides around your garden to help keep your hose from inadvertently damaging your beautiful plants and to help you water. Made from stainless steel with a decorative copper cap, these hose guides will last a lifetime of use. The design may look a bit familiar as they reflect part of the same spiral and beveled end of our Compost Crank® compost aerator tools. This wide spiral makes for a very quick, easy, and secure holder for your hose by threading it through or wrapping it around the spiral. It can also hold a spray nozzle to sprinkle your plants. Or simply use the guide as a decorative barrier between your hose and garden.
Specs
Pack of 1 hose guide
Grade 304, 3/8" solid stainless steel bar
Decorative copper cap
Weighs about 1 pound
Measures approximately 13" tall
Beveled bottom tip for easier installation
The guides are handcrafted so minor variations are inherent
1 year no reason need return policy
Lifetime limited warranty
Handling time: Please allow for a handling time of 4-5 business days. This extra time is to allow for a surge in orders. We will usually ship in 1-2 business days.
Notes:
To install, simply push in to the desired depth. For tough ground, we recommend soaking the area with water for easier installation.
Use caution and know where your buried utility lines and pipes are before driving these garden hose guides too far into the ground.
Excellent High Quality Hose Guide Reasonably Priced
Stainless steel rod (no rust/corrosion) of sufficient gauge with a decorative copper cap will ensure that these will last a lifetime.
Peter
High quality but wish they came in multiple lengths
Beautiful, high quality, fast shipping and thoughtful packaging, but not really long enough for my purposes. Would work well in a lawn where having the guide at ground height would be appropriate, especially if you want a more modern and clean look. I am using them in a garden with taller plants so more length would have been a nice option.
Copper Hose Guide
They come in handy. Better than standing and holding the hose nozzle.