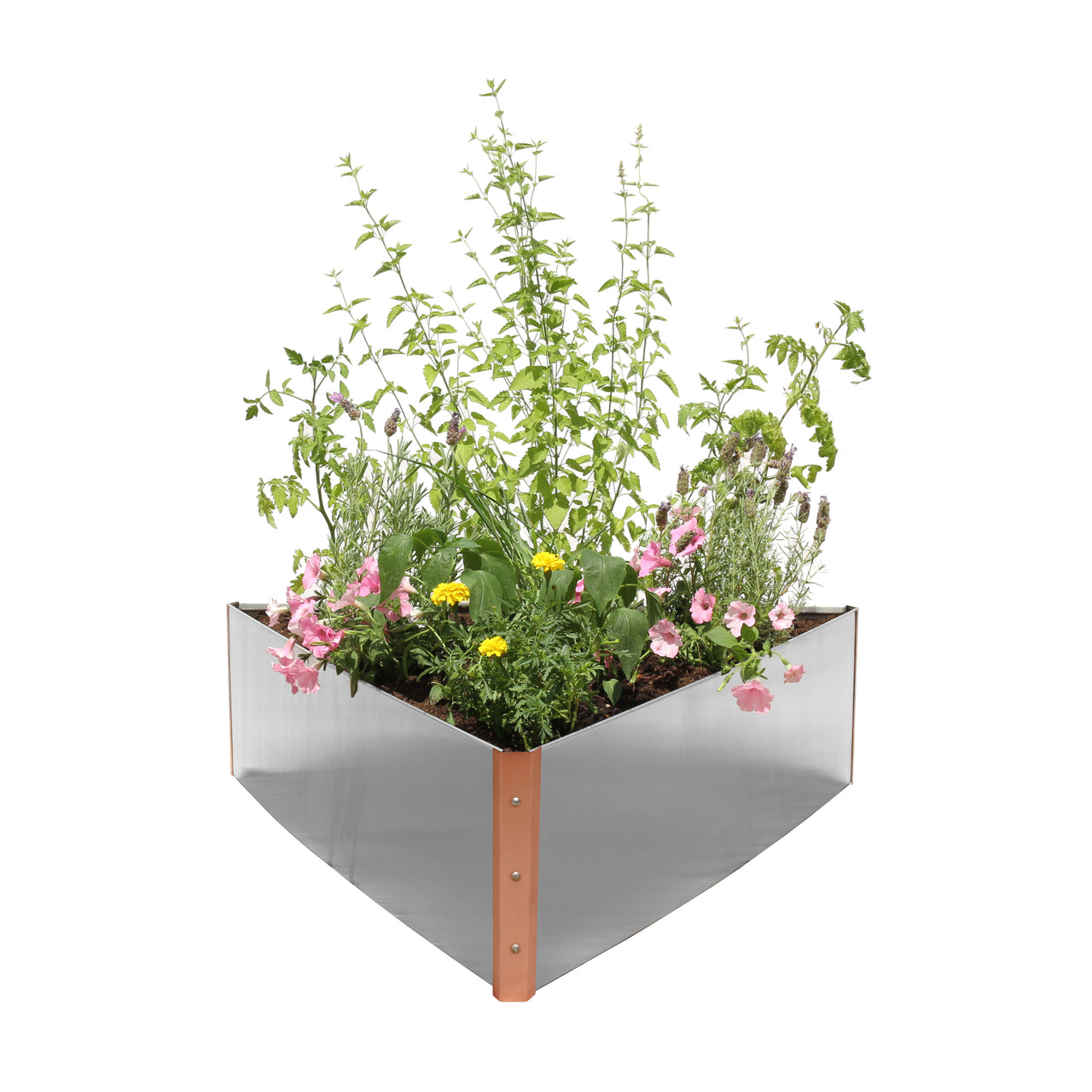 Description
New! Stainless steel & copper are beautiful, durable, and infinitely recyclable materials. They have a clean look, and won't chip, crack, or fade. So, what could be better than a stainless steel & copper raised garden bed for you to use in your own backyard.
The stainless steel panels are thin, so that they will be lightweight, yet they are strong to resist bowing when filled with soil. A folded double hem across the top and bottom edges adds comfort and rigidity. The copper brackets and garden bed corners are thoughtfully designed to nest together for super quick and simple assembly, using only 3 fasteners per corner.
This garden bed is finished to an attractive brushed polish. Stainless steel is a highly rust-resistant material, and the brushed finish adds to this protection. Some minor maintenance may be required to keep your garden bed looking bright. We recommend you visually inspect it, every so often. If you see a small brown spot, it can be cleaned off with a light abrasive like a Scotch-Brite pad (included).
The copper brackets have a brushed finish, also. And are left uncoated, so they will age and patina over time. When it is polished, copper is a beautiful orange-red. As the patina forms, it will turn a rich brown, and then slowly to the green color you may know from the Statue of Liberty or an old copper penny.
Happy gardening, year after year after year!
The Ambrose Family
Specs
26 gauge (0.01875"), 304 grade stainless steel panels, with double hemmed top and bottom edges

16 ounce (0.0216"), 110 grade copper brackets

Stainless steel machine screws and wing nuts

Fast and easy assembly by hand, with only 9 fasteners and no tools required

Weighs about 9 pounds

10 inches tall, 36 inch long panels (approximately 5 square feet of gardening space, and using 4 cubic feet of garden soil)

Open bottom, intended for use on bare ground. Can break up the ground underneath to add growing depth. Alternatively, can use a base like landscape fabric (not included).

1 year complete satisfaction return policy

Lifetime limited warranty for workmanship

Please see our full return policy and warranty for details, here
We take great care to ensure there are no sharp edges. However, for an abundance of caution, we recommend wearing gloves during assembly. And once assembled, use caution around the brackets of the garden bed.

Though stainless steel is naturally rust resistant, it cannot be guaranteed 100 percent rust proof. We recommend keeping an eye on it, and any signs of rust can be cleaned off before it becomes an issue. Please see our information about stainless steel, here.

That's about it! Happy gardening! - The Ambrose Family