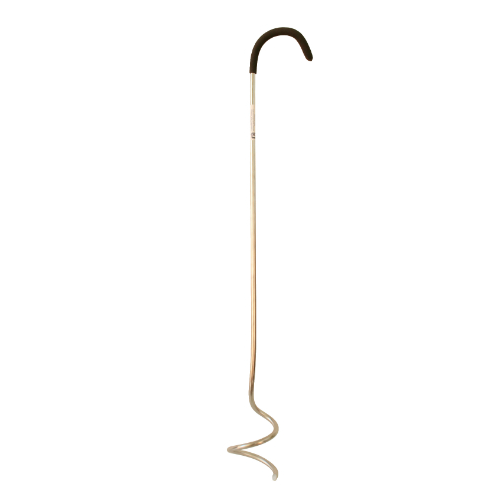 Description
Same great spiral, same working length as our original tool, different handle. The Compost Crank® Twist works well in any bin. The corkscrew design easily digs into any sort of compost, whether it's light leaves or dense sticks and vines. Twist in clockwise with one or two hands, and lift straight up without turning to pull compost up from the bottom, thoroughly mixing and aerating your bin. No jabbing, pushing, or prying necessary. Built to last for as long as you compost, the Twist will be there ready to mix your pile whenever you are.
Specs
Handcrafted in Tucson, Arizona, USA on machinery made from recycled parts.

Lifetime Limited Warranty

Made of sturdy 3/8 inch solid round stainless steel bar.

Comfortable cushioned grip made in the USA.

Curved cane handle is perfect for easy left, right, or two handed cranking.

The curved handle is also an excellent grip for lifting the tool when heavy with compost.
Weight: 1.5 pounds
Length: 32 inches
Working depth: 29 inches
The tools are handcrafted so minor variations are inherent
Handling time: Please allow for a handling time of 4-5 business days. This extra time is to allow for a surge in orders. We will usually ship in 1-2 business days.
Warning: Use of this tool has been known to cause people to rave about it to nongardening/noncomposting friends which makes them believe that you have finally lost your mind. Courtesy of Dan Speece, Mt. Airy, MD (The Duke of Dirt)

See the tool in action! View Compost Demonstration Sites.
Read the hangtag! View Compost Crank® Twist Hang Tag.
Past Reviews

"Yippeee!!! I just received my compost crank. After 3 failed turners over a decade or so, I am overjoyed to find a product that is perfectly engineered and a delight to use. How great to turn up those neglected corners and find dark, soft, perfect humus! I am singing your praises and will share this with our local garden stores (each of which offered me a pitchfork when I asked for a compost turner) and my fellow vegetarians. Thank you for quality and ingenuity!" - S. Leviton
"This is EXACTLY what I was looking for. I was poking around and kept seeing the compost aerators with those wings that pop out. I didn't love the design (seemed just asking to break) but didn't know there was an alternative. I am SO GLAD that I found this! It is easy to use, very sturdy, and has no parts that can break. Absolutely ingenious. And the company seems very cool (made in the U.S. on recycled machinery). This does exactly what it's supposed to do, and my compost is as happy as can be. The only shame is that this is not the go-to compost aerator for everyone. It should be!!" - C. Joy
Perfect!
Recently switched from a compost tumbler to an upright bin and have been struggling with turning and aerating the contents...I "googled" and uncovered the last one in stock at Native Seeds...picked it up yesterday and have been "playing" with it since...the perfect ending to my frustration with my new bin...great product!
Simply the best
Easy to use. Corrosion resistant material. Will outlast its current owner.
Love it!
Love it when something lives up to its description. This thing is simple, sturdy and does what it is supposed to.
Well designed and handy!
I purchased this for use with my GardenTower. It fits perfectly into the inner tube, and makes mixing the compost easy as all it takes is a few firm twists. Highly recommended.
Perfect tool
This tool is elegantly simple but works like a charm, moving compost from the bottom of the pile to the top. It looks like it will last forever—thick and solid construction, with nothing to break off. Wish I would have bought one years ago.