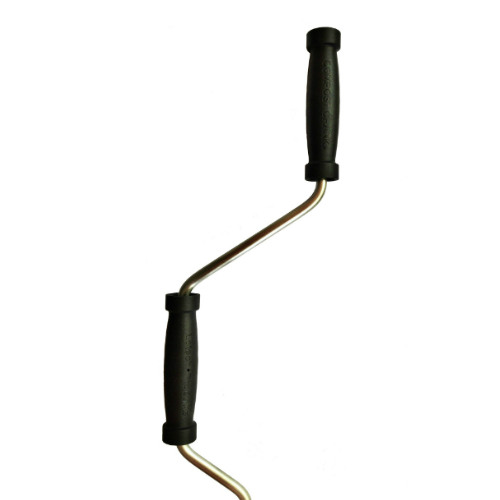 --The tools are now expected to be back in stock by the 22nd of September, as we wait for parts. We are so sorry for the delay.--

Description
The original corkscrew compost aerator!
The Compost Crank® makes it easy to "turn" green.. and brown! It penetrates any material like an auger. Crank the tool into your compost clockwise and lift without turning. Material clings to the spiral, pulling compost up from the bottom. You can thoroughly mix and aerate, or move material to active areas of the pile. The tool is easy for anyone to use and reaches every corner of the bin. It is also lightweight, so you are lifting the compost and not the tool. The free-spinning handles are molded to fit comfortably in your hands, and make the "cranking" motion a breeze! No jabbing, pushing, or prying necessary.
Specs
Handcrafted in Tucson, Arizona, USA on machinery made from recycled parts.

Lifetime Limited Warranty

Made of sturdy 3/8 inch solid round stainless steel bar.

Decorative, certified water safe, solid copper end cap.

Free-spinning, naturally UV stable, black nylon handles.

Weight: 2 pounds
Length: 45 inches
Working depth: 29 inches
The tools are handcrafted so minor variations are inherent
Handling time: Please allow for a handling time of 4-5 business days. This extra time is to allow for a surge in orders. We will usually ship in 1-2 business days.
Warning: Use of this tool has been known to cause people to rave about it to nongardening/noncomposting friends which makes them believe that you have finally lost your mind. Courtesy of Dan Speece, Mt. Airy, MD (The Duke of Dirt)

Note: If you are interested in a longer tool for your composting toilet, we are making available a 52 inch version of the Compost Crank®. We have made a new page for this tool which you can view here.
See this tool in action! View Compost Demonstration Sites.
Read the hangtag! View Compost Crank® Hang Tag.
Past Reviews

"I just got this delivered last week. My initial impression couldn't be better. The crank handle effortlessly moves the screw into the pile, and you have great leverage to pull up a plug of stuff from the bottom to the top. I've got a fairly large black plastic circular bin right now and in about 10 minutes of slight exertion I was able to give the pile the best turn it's had outside of me using a shovel. Excellent, excellent, excellent. It was fairly easy for me to screw down too far, to the point where I couldn't lift the plug, but reversing a couple of cranks solved the issue and a little patience let me get all the down into the pile." - C. Chandler
"I bought my first Compost Crank more than 15 years ago in Brooklyn at a composting event. It is probably my favorite gardening tool because it makes composting so incredibly easy. I still have that first one, which is such a simple, elegant, sturdily-made tool that it works just as well as the first day I used it. I just bought a second crank so that I won't have to transport my original one back and forth every week between my house and my summer cabin in the Catskills. I expect that I will be able to gift both cranks to my heirs!!! Well worth the cost." - Liz Miller

Crank it up!
But seriously, love this thing. I hot compost and all through the winter, turning my pile took up to two hours each time. This little crack is an easy ten minutes (larger stuff from summer) of mixing the pot and I'm done. Best compost purchase ever.
Great Tool
The Compost Crank is super easy to use. I am quite pleased with how quickly the compost pile was aerated.
Brilliant easy to use compost turner
This is a brilliant, durable, easy to use tool. Compost improved in just a few weeks. Bought as a gift for my mum and she loves it. Handles dense and heavy compost well
The team provided exceptional support and advice when choosing the right tool, all completely honest and genuine - no hard sell
The best!
I love my compost crank! They're exactly what you need in a top-loaded bin like a cut-off garbage can. I gave my first crank to a friend last year when I moved to a place that didn't compost, so when I moved and started composting again, I was excited to buy another, and it works as well as the first.